Pew Sheets and News
Notices
On Sunday, 29 May, we will celebrate the Ascension of the Lord at St Hilary's Church, 1 High Street, Morphett Vale in a Combined Parish Sung Mass, commencing at 10.00am. All parishioners and visitors are welcome, St Francis congregation will cook a Sausage Sizzle afterwards.
As part of History Month, some people from the Parish of the Southern Suburbs will join with others to sing in a free concert at St Augustine's Church, 183 Unley Road, Unley on the same afternoon (29 May) at 3.00pm. Come and hear some classic Anglican favourites and a few extra items, as well.
Thursday, 9 June - Ann Hay is organizing a Quiz Afternoon in Christ Church Hall, commencing at 1.00pm to raise funds for the Women's Mission in Malaysia. $10.00 per person. Why not gather a group to make up a table or come alone and contact Ann on 0421 657 942 to let her know you will be there. We look forward to you being there to join in the fun.
Sunday, 12 June - St Aidan's congregation will hold a Trading Table after Mass. Baked goods, jams, - please list ingredients - fresh produce, crafts, etc are all welcome - and money to purchase the goodies. Thanks for your help.
Op Shops are open - Come and see what great clothing and other bargains are on offer.

St Francis, Christies Beach - Monday - Thursday - 11.00am - 1.30pm
St Hilary's, Morphett Vale - Tuesday, Thursday and Friday 9.00am - 12.00noon
- 2nd Saturday of each month - 9.00am - 12.00noon

Food for those in need - Non-perishable foods can be left at any of the four Churches for distribution to those in need. Thank you for your ongoing support.
Mum's Kitchen (St Francis on Mondays) is now operating in the Rectory.
Coffee'n'Chat in the Ministry Centre at St Hilary's on Fridays from 10.00-11.30am provides a friendly opportunity for morning tea and a chat.
The Soup Kitchen follows at 11.30 when you can get a cup of warming soup and a sandwich.

Sincere thanks to all who make these happen.
Men's Fellowship - next meeting to be advised

Bottles & Cans - Please take to St Aidan's for recycling. Proceeds go to Schools Ministry Fund.
Coffee break following a recent Working Bee at St Francis
.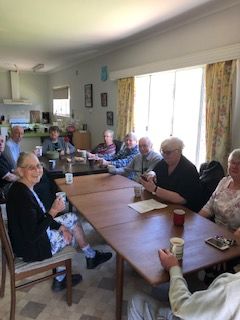 Collation
On Sunday 12 September we celebrated the Collation of Fr Cliff as Archdeacon of Formation & Training for the Diocese of the Murray. We were blessed to have Bp Keith, Fr David Price, Vicar General and Mrs Donna Jones, Registrar with us. They will be with us again at St Hilary's on Saturday 25 September at 11 a.m. for the Ordination to the Sacred Priesthood of Br Jonathan Jackson. Come along and join us for this celebration as Br Jonathan confirms his calling to serve God as a priest in His Church.